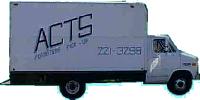 THRIFT STORE
Gary Friedman, Thrift Store Director
This is the perfect opportunity to clean out your over-burdened closets, attics and basement. The Thrift Store is here to help you alleviate your household items as well. We take your donations and turn them into cash for the ACTS Programs. We sell things normally for a fraction of their worth so that our clients in the community can purchase items that still have usefulness without going broke. All of the donations stay within ACTS and go to support the ACTS programs. The more you donate, the more we can fund! We even accept Furniture items as well. If you have large items that you would like to have picked up, please call below and let us know.
For special items that you would like to donate that include Collectibles, Art, Time Share or Vacation Properties to the Annual Silent Auction or even Automobiles, please contact Joann Barron at (703) 441-8606 ext. 13 or acts_development@comcast.net.
THRIFT STORE - 2 LOCATIONS
Thrift Store I - (703) 221-3298 (The Original)
102 Canal Road
Dumfries, VA 22026
Thrift Store II - (703) 490-9697
14410 Jefferson Davis Hwy
Woodbridge, VA 22191 (Popeye's Shopping Center)
Hours of Operation for both stores
Monday - Thursday 10:00am - 4:30pm
Friday & Saturday 10:00am - 7:00pm
Donations Accepted
Tuesday - Friday 10:00am - 4:00pm
Friday & Saturday 10:00am - 2:00pm
Items needed for donations:
Good used clothing
Furniture
Appliances
Household items
Pick-up and delivery of large furniture items can be scheduled.
Proceeds of all purchases and donations through the Thrift Stores support the ACTS services and programs. All money raised stays within the community!